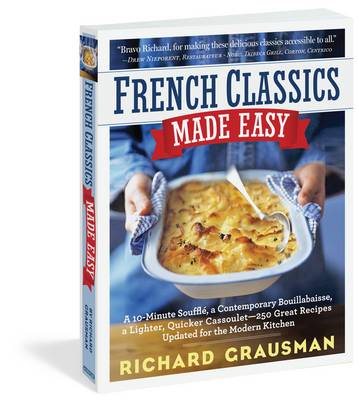 This month I've really been enjoying experimenting with european cooking, which provides the perfect foil for my light Japanese-style lunches. One cookbook that I've been especially pleased with is
French Classics Made Easy
. This book by Richard Grausman was sent to me a few months ago for review, and is an updated version to his well-known book
At Home with the French Classics
. The updated version not only simplifies and shortens cooking processes for the home chef, but many recipes have been trimmed down from their traditional French counterparts.
Now, Richard is one of the country's top cooking teachers and the founder of C-Cap, the non-profit Careers through Culinary Arts Program, so he is very concerned with the final result. His students go on to become top chefs in restaurants around the country, and are expected to understand French processes and produce authentic tasting cuisine. So his recipes, although often trimmed of excess fat or carbs, have lost none of the taste and richness of sensation that one expects from French food.
Author, Richard Grausman
His book covers everything from appetizers to desserts, including sauces, glazes and sorbets. I was especially excited about his ice cream and sorbet directions, because they don't call for an ice cream maker. I had an ice cream maker for years but it never worked properly. I think my freezer just can't get quite cold enough for it. Richard teaches us that you simply make your frozen base and then smooth in in the food processor. Return to the freezer to re-firm for a few hours and VOILA! perfect ice cream or sorbet. This is so easy, and perfect for the current heat wave we've been experiencing.
If you are looking for a book that will allow you to wow your dinner guests, or recreate your french vacation at home without tearing your hair out, this is the book for you. Duck a l'Orange, Gnocchi a la Parisienne, Soup a L'Oignon, Tarte Tatin -- they're all here! Being half French, this book brings back all sorts of wonderful memories of family vacations for me. But I am also especially thankful to Richard for showing me a faster, juicier and tastier way to cook a whole chicken (on it's side!); how to make cream sauce for pasta or vegetables in less than a minute; and make my own glaze from fresh stock, a bouillion like gel that will keep for months in the fridge or freezer and add flavor to many, many meals.